Alpha has been talking to Saburo on Discedo, and the person who plays him started reading YKK. D8 In retaliation, me and Tyler started watching
Emobot
Kikaider today. I've had the DVDs for like, ever, but never got around to watching them. Well, as it turns out, they were subtitiled in China. Can you say "Engrish"? The first few minutes were a little awkward, but then it introduced the bad guy, Professor Gill, as "
BRUCE PHILLIP KILO!
"
Long story short, we're watching it on Veoh instead.
SO EMO OH GOD. We only watched the first four episodes because the massive levels of ANGST were too much to handle. You really can't watch it all in one sitting, it's exhausting. Many lulz were had though.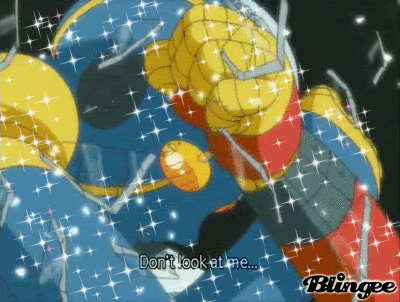 "THIS IS THE SKIN OF A KILLER, BELLA MITSUKO!"
Apparently my computer REALLY doesn't want me to play WoW. It wouldn't let me install from the CDs, it wouldn't download from the site, and even the streaming trial version crashes when I try to open it. L-lol. I think he's jealous. *pats computer*

Well now I'm really bored. D8 I want to RP some more but IDK what to post. Apparently I joined in the middle of some plot so all this exciting stuff is going on and I'm utterly confused. I'm stalking Jiro's journal for the next time he posts so I can follow up on my conversation with Saburo. Rofl oh man I hope Jiro likes Alpha because that will really annoy Saburo. XDD;;;
.